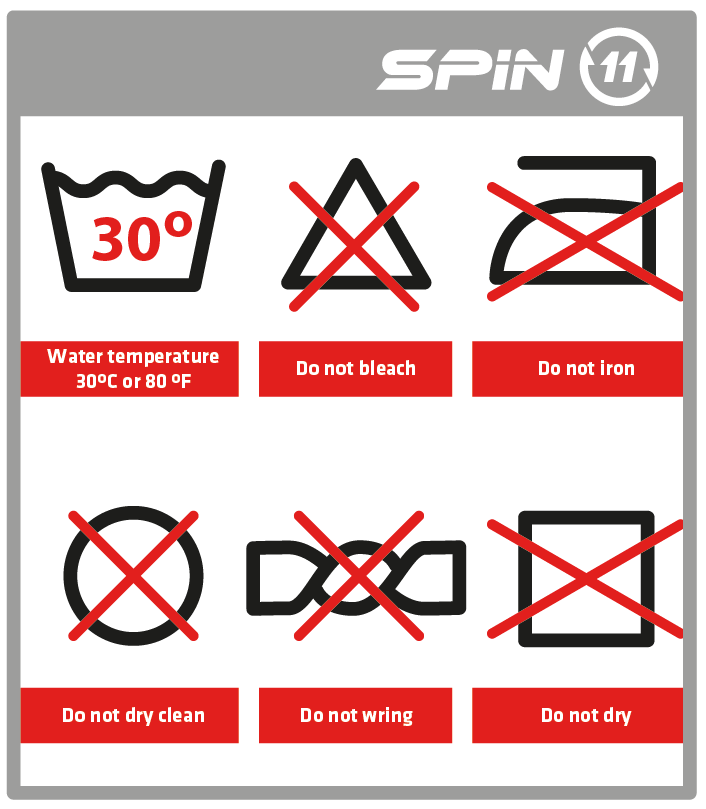 Your custom clothing is made from the highest quality technical fabrics and materials. Like any high performance products, they need a little extra care and attention to keep them in tip top shape, so you can enjoy them for many years to come. Here are a few tips that will keep your garments looking and feeling like new.
Post ride.
Never leave your used cycling kit laying around post ride, this allows the bacteria to settle in the fabric and will cause the garments to smell and possibly deteriorate if badly soiled. If you have been up the mountains or on a winter spin and your clothing has excess grime and mud give them a little rinse , they'll thank you for it!!
Before washing.
Before loading your washing machine make sure your jerseys or tops are fully zipped up and turned inside out, no one wants to share a washing machine with a flayling zipper, and by turning your garment inside out it will also protect the colours and designs and keep them looking sharp.
The same applies to your shorts, tun them inside out and apply a little non biologically washing liquid pre wash if they are especially soiled.
Washing
1. It sounds obvious but always read the label, this has been provided by the manufacturer to protect your garments.
2. If possible use a mesh laundry bag when washing your cycling apparel. This will keep everything together and give some added protection from the rigours of the washing machine.
2. Always use a non biological liquid detergent and absolutely never use a fabric softener no matter how nice you think it smells. Fabric softeners and biological detergents can effect the properties of the fabric that allow the materials to wick away sweat and manage moisture as well as water proofing.
4. Always wash your cycling clothing at 30 degrees Celsius or less, high temperatures will effect the elasticity of your products as well as colours and designs.
5. Never wash your cycling clothing with items such as gloves and overshoes that have Velcro, Velcro is amazing stuff but it's abrasive nature will eat into your lycra and technical fabrics and damage your clothing.
6. Never wash your cycling clothing with jeans, towels or other heavy duty garments, cycle clothing is made from strong but delicate fabrics and should be treated accordingly.
7. Never use bleach and Never dry clean!! the process of dry cleaning is far to harsh for your cycling apparel.
Drying
Never use a tumble dryer, like a hot wash the high temperatures will damage the fibres in your garments making them lose shape or shrink.
Do not ring out your cycle apparel, always allow to dry naturally on a clothes airer or by laying flat.
Do not iron, apart from the heat involved there is simply no need, one less thing to do!!
Everyday tips
The golden rules to a healthy cycling kit.
Wash at 30 degrees or less

Do not bleach

Do not use fabric softeners

Do not dry clean

Do not wring out

Do not tumble dry

Do not Iron
If your unsure of anything or have a question about garment care thats not covered here please get in touch.